Congaree Pointe Commercial Development
Momentum For Change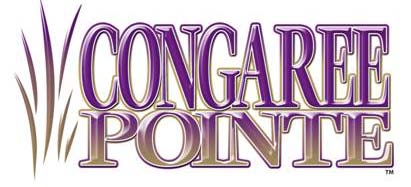 The Bible Way Church of Atlas Road (BWCAR) recently purchased 100+ acres of property along the Bluff and Atlas Road Communities, Inc., Hurricane Builders, Inc., and the Midlands Community Development Corporation (MCDC) on a major housing initiative that will bring new life to this area.
Inspired Communities, Inc. is a leading Midlands residential builder whose major interests lie in Lake Carolina Development, Charleston's Park West, Pennington, Place and the town of Ayrsley in Charlotte, to name a few. They offer a unique living experience to those who enjoy master planned new urban communities.
Family-owned Hurricane Construction was founded in 1993, at a time when affordable, quality homes in the Columbia area were almost out of reach for most homebuyers. They began building our distinctive homes and lifestyle friendly neighborhoods in 2001 and have since gained a reputation for building the most affordable, quality homes in the Columbia market. A few of their area housing developments include Chandler Hall, Colonial Brok, Moores creek an Willow Lake.
Congaree Pointe is planned as a major mixed-use development that will contain residential, commercial, recreational, and civic components along the Bluff and Atlas intersection. This area is a prime location for new development in that it is less than a mile from Interstate 77, within 5 miles of the Williams-Brice Stadium, and within 10 miles of downtown Columbia.
The Need For Commercial Development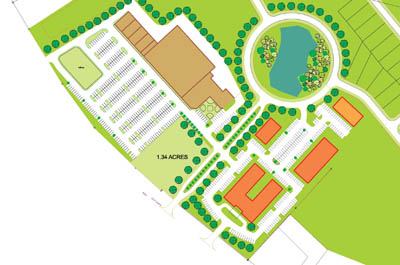 Congaree Pointe Site Plan
While southern Atlas Road, near Garner's Ferry Road, has experienced tremendous growth over the past 5 years and continued growth is projected. At least five new residential communities have been added to that area and several business establishments have constructed new buildings there. Northern Atlas Road, near Bluff Road, has not kept pace, however. The significance of the Congaree Pointe project will be tremendous for this area. Given its proximity to I-77, William's-Brice Stadium, The University of South Carolina and down town Columbia, this is a prime area for development. Improved and increased housing in this area will attract the commercial development needed to make this area thrive. It is estimated that there are approximately over 29,000 households within a 5 mile range of this area. This project hopes to bring retail and other services within convenient distances of these residents. Commercial Development along Bluff Road, the second phase of the Congaree Pointe development, centers on a 20 acre parcel of land just one mile away from Interstate 77. This is prime land for commercial development because of its proximity to downtown and accessibility to the interstate. In the site plan above, the tan areas represent what could become grocery stores, dry cleaners, beauty\barber shops, restaurants, etc. The orange areas represent sites for the MCHC Medical Office Complex and office buildngs.